| Donate | PHOTOS | Support a Team or Fundraiser | Event Sponsors |
---
Hunger Hike 2023 Triumphs Despite Rain
Hunger Hike Crushes Goal – $113,000 & Counting
Despite the rain, the Hunger Hike fundraiser carried on with spirited determination, and the results were nothing short of spectacular! The turnout was remarkable, demonstrating the incredible support from our community. It was heartwarming to see a range of participants, from Zumba enthusiasts to Purdue Pete, elected officials, religious leaders & groups, local businesses, school groups, and the Purdue Crew Team, all coming together for this important cause. The day was filled with joy, music, popsicles, a delightful hot dog picnic, clowns, face painting, princesses, and even soothing massages – a true celebration of unity and compassion.
Even more astonishing, the fundraiser didn't just meet its goal – it exceeded it! With a goal of $113,000 in mind, Hunger Hike is thrilled to announce that a total of $116 000 has been raised so far. This incredible generosity will undoubtedly make a significant impact on the fight against hunger. But the good news doesn't stop there – donations are still welcome! Every additional contribution will further strengthen our mission to combat hunger and support those in need in our community.
A heartfelt thank you to all who participated, donated, and made Hunger Hike a resounding success. Your kindness and dedication inspire us to continue this vital work, rain or shine. Together, we are making a positive difference in the lives of others and taking significant strides in ending hunger. To view more PHOTOS, click HERE.
---
---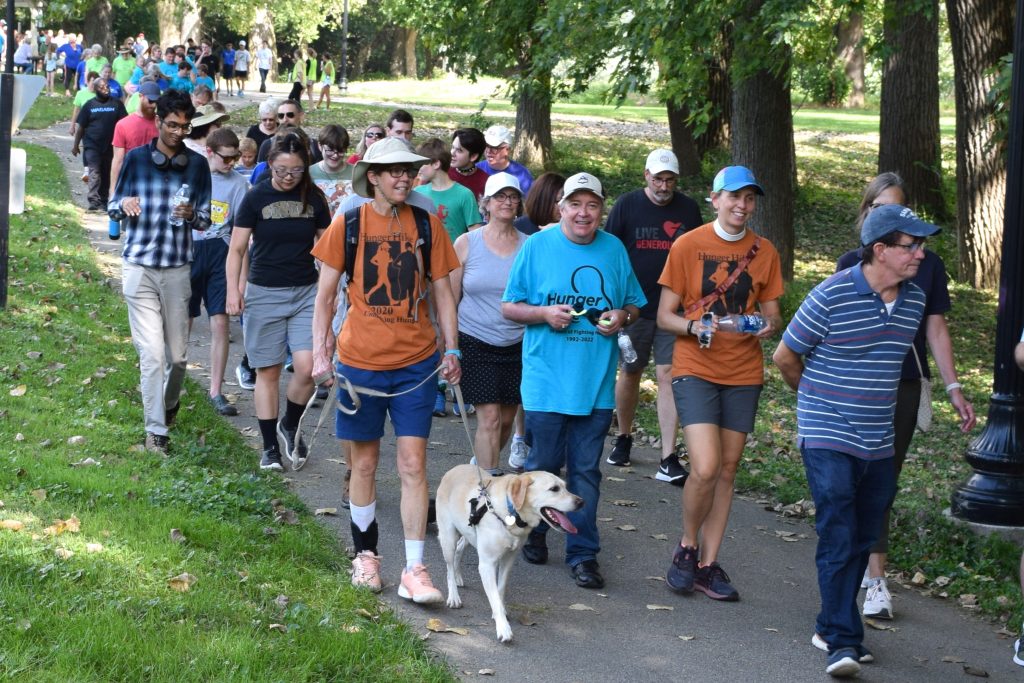 Hunger Hike 2023 is scheduled for the afternoon of Sunday, September 17. If you wish to make a donation to Hunger Hike 2023, click the button below. If you are interested in becoming a Hunger Hike 2023 event sponsor, email info@hungerhike.org.
Here's what you need to know to begin raising money and "fighting hunger."
Hunger Hike is an annual community fundraising event whose mission is to Raise Awareness & Make a Difference in the Fight Against Hunger — locally, regionally & globally. Hunger Hike (Celebration & 1.5K Walk) event details are as follows:
Sunday, September 17
1 p.m. – Event begins; 2 p.m. – Hike starts
Riehle Plaza, Lafayette
Hunger Hike is the perfect event for a team or group — church group, student organization, civic group or your family. Put together a Hunger Hike team and start raising money using our online fundraising site — or any way you choose. We hope you'll consider joining our Fight against Hunger. Here's how to get started:
If you would like to become a Hunger Hike Event Sponsor, email info@hungerhike.org for more information.