---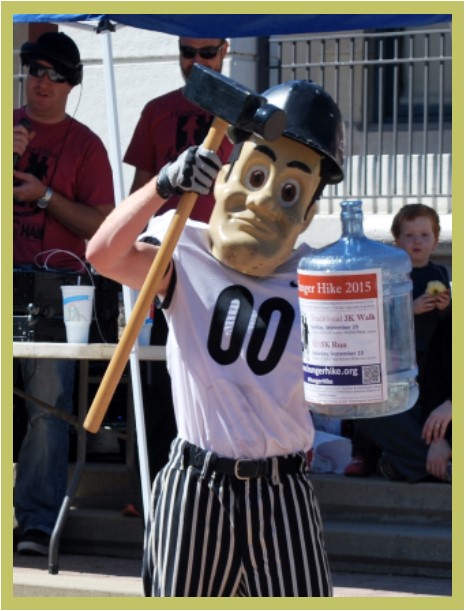 Hunger Hike is an annual community fundraising event whose mission is to raise the awareness of and make a difference in the Fight Against Hunger. Hunger Hike is open to participants of all ages and abilities who share a common goal: Fighting Hunger!
The Hunger Hike main event is our annual celebration at Riehle Plaza — immediately followed by the traditional Hunger Hike 3K Walk.
---
---
6 Ways to Participate
Hike/walk in the Hunger Hike 3K Walk, Information HERE
Make a Donation NOW, HERE
Support a Team or a Fundraiser, HERE
Become a Sponsor, email info@hungerhike.org or call 765-423-2691
Collect donations the "old school" way
Promote Hunger Hike – Flier, Poster, Postcard & more – click HERE
---
Hunger Hike (Challenge Week, Celebration & 3K Walk)
Sunday, September 12 – Sunday, September 19: Take part in Hunger Hike Challenge Week
Sunday September 19
1 p.m. – Celebration begins at Riehle Plaza
2 p.m. – 3K Walk at Riehle Plaza OR sign up here and join one of our Micro Walks
More information, click HERE
---
Sponsoring Organizations
All Hunger Hike proceeds benefit the Lafayette Urban Ministry Food Programs, Food Finders Food Bank, Inc. & St. Thomas Aquinas Haiti Ministry. Learn more, click HERE.
---

---
Special Thanks to our Event Sponsors!
Take the time to THANK all of our event sponsors — and support their businesses, please.
Hunger Hike event sponsors, list HERE.
---
Photos – Check out the photos from Hunger Hike:
---
Volunteer
Hunger Hike events need dozens of volunteers. Please consider helping. Learn more HERE.
---