---
Tackling Hunger – Locally, Regionally, Globally
Hunger Hike is a family event for individuals & teams whose mission is to Raise Awareness & Make a Difference in the Fight Against Hunger. (And it's Dog Friendly.) The goal this year is to raise $100,000 for food and nutrition programs locally, regionally and globally. The traditional Hunger Hike 1.5K Walk is THIS Sunday (September 18) from 1 – 3:30 p.m. at Riehle Plaza, N 2nd Street, Lafayette.
Below are the special highlights of the Hunger Hike kick-off event. For additional information on Hunger Hike 2022, please visit our website at hungerhike.org.
---
Hunger Hike — Special Highlights & Surprises
Join us Sunday, September 18 for the Hunger Hike kick-off event.
At 1 – 2 p.m. (Riehle Plaza). DJ Powder from Rat Pak Mobile DJs will emcee and provide dance music at Hunger Hike. DJ Powder creates a family-friendly, festive environment during the kick-off of Hunger Hike.
The kick-off event will also feature Purdue Pete, the Purdue Cheer team and the Purdue Crew Team. The Purdue Cheer team will perform with Purdue Pete. Thanks to Purdue Athletics, and Purdue Crew Team for their support. There will be FREE Zumba, face painting, ax throwing, balloon animals, clowns, princesses, and massages.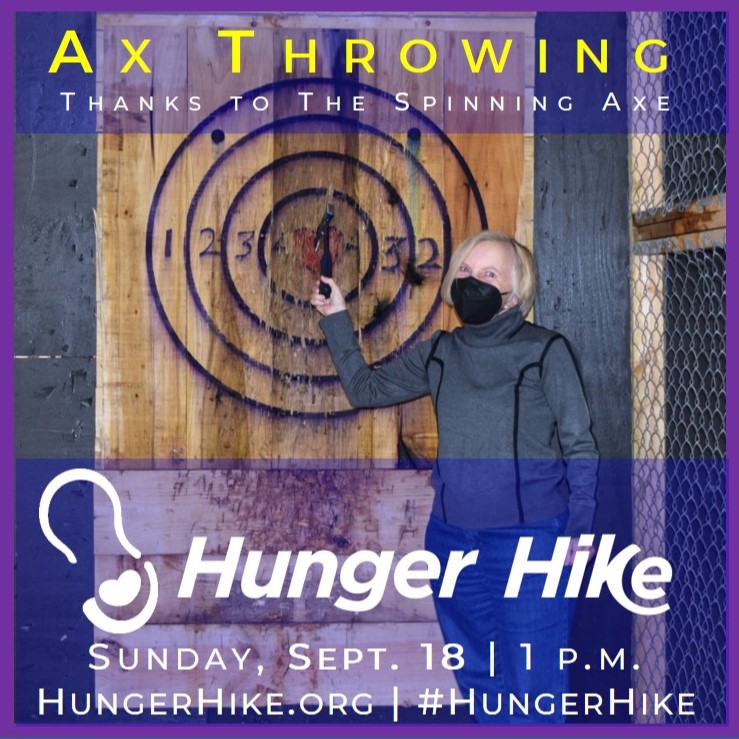 At 1:45 p.m., there will be a short ceremony. Sheila Klinker, Indiana State Representative, will kick-off Hunger Hike with the singing of the US National Anthem with her daughter, Kelly Jacob, followed by an invocation from the Reverend Dr. Hilary Cooke, the Chapel of the Good Shepherd Episcopal Church.
There will also be awards, including "oldest walker," "youngest walker," and "best new fundraiser."
At 2:00 p.m., Hunger Hike supporters begin the 1.5K walk over the pedestrian bridge and around Tapawingo Park, the new family-friendly route.
Along the way there will be live boat demos at the Purdue Boathouse, popsicles, and a magic show featuring Scott Starkey, the Wizard of the Wabash. The route ends back at Reihle Plaza with a picnic with hot dogs, chips, and bottled water.
---
Hunger Hike is a fundraising event and an exciting community celebration. Hunger Hike raises money to support the important work of Lafayette Urban Ministry, Food Finders Food Bank, Inc., and the St. Thomas Aquinas Haiti Ministry.
Sign up now for Hunger Hike 2022, and help fight hunger! Be a part of this community event to raise $100,000 for the hunger relief efforts locally, regionally & globally. Three Easy Ways to get involved:
There is only days to Hunger Hike. Start a team and start raising funds. Get started TODAY! It's not too late.
---
VOLUNTEER OPPORTUNITIES – If you wish to volunteer with Hunger Hike, click HERE to sign up online. Perfect for groups and individuals.