---
Hunger Hike 2015 —
95% to Goal

— So Far

Since Hunger Hike 2015 weekend, our fundraising committee has been hard at work raising more funds. Many individuals donations have also come in since September. Thus far approximately $95,000 has been pledged & donated to Hunger Hike. Our goal to raise $100,000 is so very close. Working together this goal can be achieved.
---
Top 2015 Hunger Hike Fundraisers Honored
At a recent LUM Board of Directors Meeting the top Hunger Hike fundraisers in three categories were honored and presented with trophies. The three categories are Top Individual Fundraiser, Top Church Fundraisers, and Top Group (non-church) Fundraisers.
---
The Top Three Church Fundraisers for 2015 Hunger Hike are as follows:
1st Place—St. Thomas Aquinas Center—$26,241. Accepting are Rob Pahl, Lauri Mitchell & John Ginda (pictured above, left);
2nd Place—Chapel of the Good Shepherd—$ 4,477. Accepting is Mark Thomas (pictured above, center);
3rd Place—St. Andrew United Methodist Church —$3,899. Accepting is Melissa Martin (pictured above, right).
---
The Top Group Fundraisers—
Computer Science Learning Community at Purdue University—$1,030.
Accepting is their advisor, Scott Nelson (pictured left).
---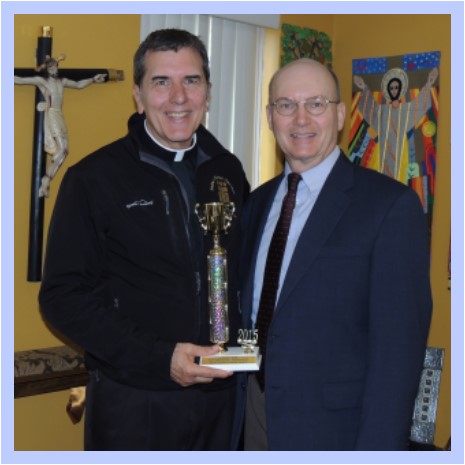 The Top Individual Fundraiser—
Fr. Patrick Baikaukas, OP—$6,786.
(pictured right with Joe Micon, LUM executive director).
---
Ways YOU Can Help
Ways the YOU can help us reach our fundraising goal of $100,000. Some suggestions on how you can donate and raise funds for our Fight Against Hunger:
Reach out to your friends and family—use Social Media, email, text
Donate NOW online to Hunger Hike, click HERE
Donate by mail— make checks payable to Hunger Hike, and mail to Hunger Hike, 420 N 4th Street, Lafayette, IN 47901
Donate in person— stop by the LUM Office
(420 N 4th Street, Lafayette), M-F 8:30 a.m.-4:30 p.m.
Donate to a Team or Fundraiser, click HERE
All Hunger Hike proceeds support the Lafayette Urban Ministry food assistance programs including the St. John's/LUM Food Pantry, Food Finders Food Bank, Inc. and the St. Thomas Aquinas Haiti Ministry.
For more information on Hunger Hike — go to www.hungerhike.org.
---
---
Hunger Hike Photo Memories
Check out this year's photos on Facebook or Flickr. Please tag yourself & share the photos with #HungerHike. When you tag yourself and share — you're spreading the word about Hunger Hike and our Fight Against Hunger — and generate more donations.
Special thanks to our official Hunger Hike photographers: Ed Lausch from Lausch Photography, and Olivia DeCrane & Zoe Malavenda from Harrison High School.
Share your photos from Hunger Hike weekend and use #HungerHike.