---
Hunger Hike Exceeds Fundraising Goal AGAIN!
---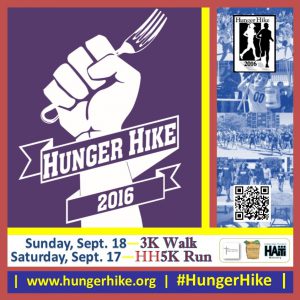 At a celebration this morning, it was announced that Hunger Hike 2016 not only raised a record amount but also exceeded the 2016 fundraising goal. For the second year in a row the amount raised exceeded $100,000 — and for the fourth consecutive year it is the highest amount ever raised.
The 2016 total is $114,407 plus numerous gifts in kind.
Photos from this event may be viewed HERE.
---
Special thanks to Diamond Level event sponsors —
Walmart/Sam's Club ($7,750)
the Lafayette Life Foundation ($5,000)
Total raised through corporate gifts is $39,665. To view all of our event sponsors, click HERE.
---
A majority of the money comes from local churches and their fundraising efforts. The top church fundraisers this year are as follows:
The top organization/group teams are as follows:
Purdue Computer Science ($1,286)
Food Finders ($1,170)
Grandma's Bunch ($862)
The celebration was capped off with the presentation of checks to representatives of the three sponsoring organizations —
Each sponsoring agency received $35,977.
---
The proceeds from Hunger Hike 2016 will have a tremendous & immediate positive impact on the Fight Against Hunger — locally, regionally & globally. Thank you all again for making history this year at Hunger Hike.
---
Please mark your calendars for next year's Hunger Hike event weekend — September 16 & 17, 2017.
More information may be found on the Hunger Hike website at www.hungerhike.org.
If you wish to become a Hunger Hike 2017 event sponsor, please call or email Joe Micon (765-423-2691 | jmicon@lumserve.org).
---
---