---
Please share this with others.
---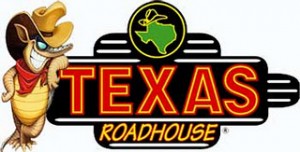 You can still support Hunger Hike just by going out to dinner —
WEDNESDAY, SEPTEMBER 28.
Texas Roadhouse in Lafayette
has scheduled a Fundraising Night for Hunger Hike on Wednesday, September 28 from 4 to 10 p.m. Hunger Hike will get 10% of all food purchase from party that present a Hunger Hike "invitation." Here's how it works…
Print the Hunger Hike "flyer" (below) — or for PDF, click HERE
Bring invitation to Texas Roadhouse, 3615 SR 38 E, Lafayette, on Wednesday, September 28 from 4 to 10 p.m.
Give invitation to your server
Hunger Hike gets 10% of your food sales — so, eat up!
Here are the Hunger Hike Fundraising Night details:
Hunger Hike Fundraising Night at Texas Roadhouse
Date: Wednesday, September 28
Time: 4 to 10 p.m.
Place: Texas Roadhouse, 3615 SR 38 E, Lafayette
---
Please share this with others. THANK YOU. 
---
The Texas Roadhouse Story
---
It all began on February 17, 1993, when Kent Taylor opened the first Texas Roadhouse in Clarksville, Indiana.  Kent's goal was to own not just a family restaurant and not just a steak restaurant, but a place where everyone, of all ages, could come and have a great meal and great fun for a great price.
We like to brag about our Hand-Cut Steaks, Fall-Off-The-Bone Ribs, Made-From-Scratch Sides, and Fresh-Baked Bread. Everything we do goes into making our hearty meals stand out. We handcraft almost everything we serve. We provide larger portions so you get more food for your dollar. And if you want an Ice Cold Beer or Legendary Margarita to wash it all down — well, we have those, too.
Our food's not the only thing that's Legendary at the Roadhouse — our fun is too! From our line dancers to our jukebox to our friendly servers, you'll enjoy every second you spend in a Texas Roadhouse.
At Texas Roadhouse our team has an incredible sense of pride in everything we do. Our passion ensures you have a Legendary Experience every time.  Because of our passion for our guests and our communities, our team members are involved outside the restaurants in their local communities as a way to give back.
The Texas Roadhouse story is simple. Legendary Food, Legendary Service® —
all with lots of Legendary Fun!
---
---