---
Hunger Hike MEDIA EVENT – Tuesday, September 8, 2015 – Riehle Plaza, Lafayette, IN
---
At this week's Hunger Hike media event moderated by Katy Bunder, executive director of Food Finders Food Bank, Inc., many important updates were shared.
---
---
Hunger Hike 2015 Goal – $100,000
First, the Hunger Hike committee announced the fundraising goal for 2015 is $100,000. Last year more than $95,000 was raised — which was the highest amount ever, and all are confident the $100,000 goal can be reached this year with the help of the entire community.
---
Impact of Construction Delays
Unfortunately, last Thursday the City of Lafayette announced a new construction schedule for the John T. Myers Pedestrian Bridge — which impacts Hunger Hike 2015. There will not be access to the ramp that takes "hikers" to the other side of the railroad tracks to the trail; therefore, the Hunger Hike 3K Walk route has been changed. The Hunger Hike Kick-off event will remain at our traditional location — Riehle Plaza, Lafayette (Sunday, September 20). The new route will go up Main Street — take a left and stay north of Main Street and south of Union Street and west of 9th Street — to make up a 3K walk. Hunger Hike planners are working with the Lafayette Police Department to come up with the final Hunger Hike route.
---
Honorary Co-Chairs
The 2015 Hunger Hike honorary co-chairs were also present and introduced. Sharon Versyp, Purdue Women's Basketball head coach, who is the co-chair for her ninth consecutive year, was joined by Coach Dave Kucik, Purdue Rowing & Crew Team head coach, in his second year as co-chair; and Coach Dave Shondell, Purdue Volleyball head coach, who is co-chair for the first year.
---
Each co-chair offered remarks — and shared that this event is very special to them — as well as Purdue athletics, their teams and the entire Purdue community. They encouraged everyone — between now and Hunger Hike — to raise as much money as they can for the cause. Sharon Versyp stated that $100,000 is a realistic goal which we all should focus on achieving.
---
HH5K Run — New Route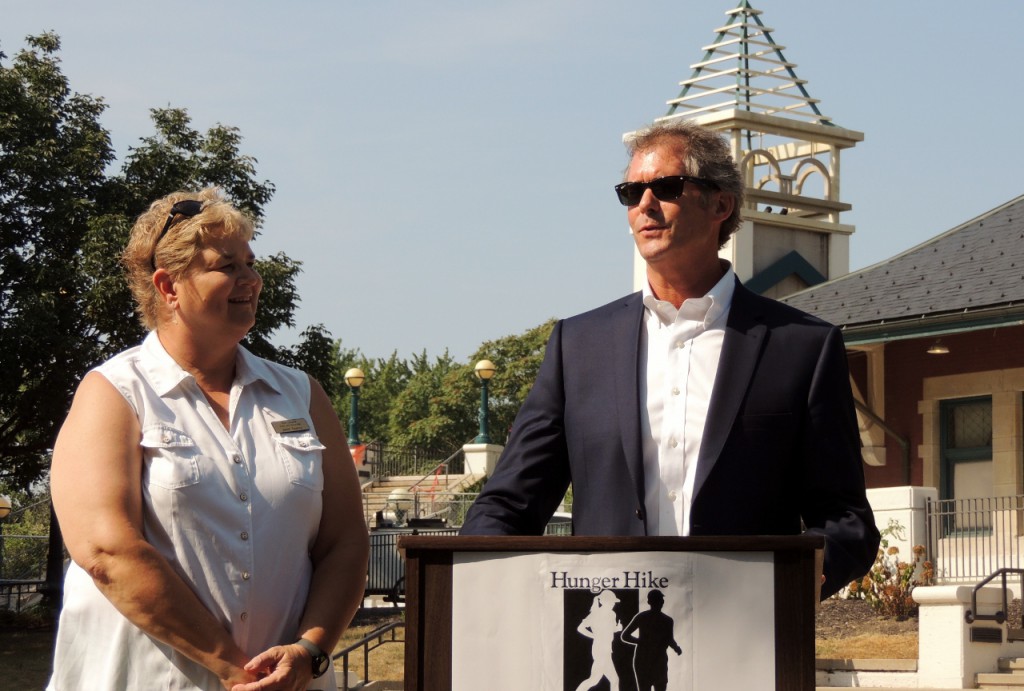 Next, information about the HH5K Run was shared. Mayor John Dennis (West Lafayette) and the West Lafayette Parks & Recreation Department Superintendent, Janet Fawley, were on hand to express their enthusiasm for the 2015 HH5K Run. They are excited that the HH5K Run is the first official event to use the newly completed Cattail Trail Loop. They couldn't think of a better event to be the "guinea pigs" for future runs on this course. Mayor Dennis went on to say that hunger and food insecurity in our community is a real issue and affects more families than you could imagine — it is an issue that we can collectively solve — and Hunger Hike is an important piece in working on this combating this issue.
---
HH5K Run — Celebrity Runners
This year the HH5K Run has a number of "celebrity runners." They were at the event and excited to be participants. The HH 5K celebrity runners are Shamus from K105; Rev. Bradley Pace, pastor at St. John's Episcopal Church; Joe Micon, executive director of LUM; and Fr. Patrick Baikauskas, OP – pastor/director of campus ministries, St. Thomas Aquinas Center, West Lafayette.
They challenged the running community to join them in the official Run Against Hunger — the HH5K Run on Saturday, September 19th. Register HERE.
---
Event Sponsors – Gold & Silver Level
Finally, an important piece in the Hunger Hike fundraising is the support from our event sponsors. Katy Bunder was thrilled to announce our Gold & Silver Level event sponsors.
This year's Silver Level event sponsors, who are firms that contributed at least $1000, are to date:
Evonik Corporation – Tippecanoe Laboratories

Bar Barry Liquors; Meijer, Inc.

Old National Bank

SIA – Subaru of Indiana Automotive, Inc.

Subway restaurants in Lafayette, West Lafayette and Purdue

System Concepts & Consulting, Inc.

WKOA Radio – K105 Lafayette.
---
The Hunger Hike 2015 Gold Level event sponsors, who are firms that contributed at least $2000, are to date Alcoa, Inc. and the Bison Financial Group.
---
The complete list of the 2015 Hunger Hike event sponsors may be found HERE.
Businesses are still encourage to become event sponsors — just call or email the Hunger Hike team (765.423.261 | hungerhike@lumserve.org).
---
Hunger Hike events are less than two weeks away — and a lot of exciting things are planned for the Kick-off event and the 5K run. Please become a Hunger Hike participant today — and join Coach Versyp, Coach Kucik & Coach Shondell in making this a record breaking year by reaching the 2015 goal of $100,000.
---
---
To participate as an individual or team fundraiser with Hunger Hike, start HERE.
---