---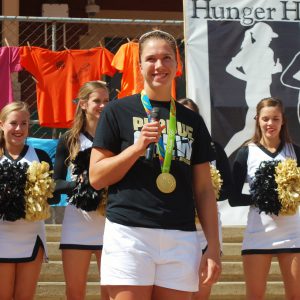 Participants gathered with one common goal—to raise awareness and raise funds for food programs locally, regionally & globally — through the work of Lafayette Urban Ministry, Food Finders and the Haiti Ministry at St. Tom's. The events this past weekend though — offered even more.
This year was special from beginning to end. Before it all began the crowd was treated to Zumba with Brooke & Kasie from Studio b Dance & Fitness and the National Anthem sung by Indiana State Representative Sheila Klinker & her daughter, Kelly Jacobs, director of music for the Cathedral of St. Mary. Throughout the entire event , there was live music by DJ Powder from Rat Pak Mobile DJs, face-painting & balloon animals from the Unlimited Smiles Clown Ministry, and massages from Lee Anne Akers of Essential Touch Massage.
Amanda Elmore, US Olympic Gold Medalist (pictured above), gave a rousing keynote address preceded by remarks from Sharon Versyp, Purdue Women's Basketball coach; Dave Shondell, Purdue Volleyball coach; Dave Kucik, Purdue Rowing coach; Sheila Klinker, Indiana State Representative; John Dennis, West Lafayette Mayor; Tony Roswarski, Lafayette Mayor; Joe Micon, LUM executive director; Fr. Patrick Baikauskas, OP, pastor/director of campus ministries, St. Thomas Aquinas; Katy Bunder, CEO/president, Food Finders Food Bank, Inc.; and Kyle Mann, Walmart Market Manager.
Amanda Elmore also kicked off the Hunger Hike. Purdue Pete, Purdue Cheerleaders, Purdue Crew Team, Purdue Women's Basketball Team & Purdue Volleyball Team then led the hikers up the John T. Myers Bridge and on the Wabash Heritage Trail along the Wabash River. Hunger Hike concluded with a Celebration Picnic with hot dogs, chips & bottled water for all participants (Thanks to Texas Roadhouse, Frito Lay & Aqua Systems).
Hunger Hike once again successfully brought much needed attention & funds to the battle against malnutrition, food insecurity & hunger.
---
---